This bentonite clay recipe is ready to give you and your hair life. Here we go.
I haven't always been a fan of bentonite clay, I was worried that it would not come out of my type 4c natural hair, but man, once I tried it, I was hooked. No rehab can get me off the stuff. My hair and skin feel incredibly pampered. You can easily incorporate bentonite clay into your beauty routine and add the ingredients below for an extra lift. 
Okay, so before we get into it, some facts?
What is Bentonite Clay?
Fun fact, bentonite clay is actually volcanic ash. It's known to have an abundance of minerals, including calcium, magnesium, silica, sodium, copper, iron and potassium. 
Besides hair and skin, you can also use it as a relaxant in your bath, and when consumed it helps to relieve digestive issues.  It's an incredible compound that helps to reduce the outbreak of blemishes and alleviate redness, by removing toxins from your pores. 
Bentonite Clay Hair Mask 
Ingredients You'll Need 
a plastic or glass bowl

a plastic, wooden, or rubber stirring utensil (do not use metallic objects with bentonite clay as it affects it)

1/2 cup of bentonite clay

1 tablespoon of coconut oil

1 tablespoon of castor oil

1 tablespoon of sweet almond oil

6 tablespoons of apple cider vinegar (unfiltered, with mother)

3 tablespoons of water

ADDITIONAL: a spray bottle with water in case your hair dries out.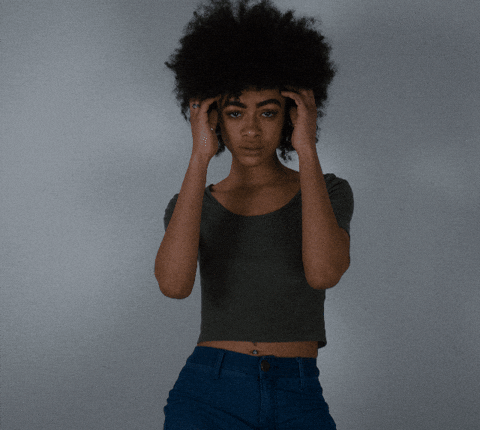 Directions
ADD the clay first, then the oils, in your mixing bowl.

Next, add your 6 tablespoons of apple cider vinegar. Allow it to foam for 15 seconds before adding in the water. Make sure you let it foam, or it will become extra lumpy. 

ADD your 3 tablespoons of water. 
STIR the ingredients together well until you have a smooth mixture. The consistency should be like thick yoghurt or porridge. 
APPLY the mask to clean, damp or wet hair from root to end. Separate your hair into 6 sections (and pretend like you're relaxing it! Yep, we went there!).
KEEP a spray bottle nearby to keep your hair damp, so it doesn't dry out.

Once you've finished applying the clay to all 6 sections, cover your hair with a plastic cap, or plastic bag for 20-30 minutes. Then cover with a doek/headscarf.




Ready To Rinse?

When you're ready to rinse, hop in the shower. Showering will get the clay out much easier, otherwise, be prepared to look like you've been baking all day. 

Now Add Conditioner

Once the clay is 80% rinsed out, add a conditioner of choice. No, not your favourite one, the one on the left, that cheapo conditioner from Pick 'n Pay.  Rake it through your hair from ends to root. Let it sit for about 5 minutes then rinse out well.

Doesn't that feel good? Your end result will be hydrated, ultra-moisturized hair. And yes, you're welcome!